Our Values
A message from our CEO
The country and our company continue to grapple with the severe implications of the COVID-19 health crisis that has taken over 100,000 lives in the U.S. and counting. The accompanying economic impact is still being realized. Yet now, we turn our attention to a bigger threat that can cause greater hardship than any economic injury. This threat is racism and it is the most harmful of maladies because it threatens the heart and soul of humanity itself. Once again we are forced to confront a discarded truth that lies just beneath the surface of civility. We all witnessed with horror what came of George Floyd. His name is seared into our consciousness, as is the terrible fate that befell Breonna Taylor, Ahmaud Arbery, and others. We must ask ourselves, how many videos and accounts of the mistreatment of black citizens need to occur before meaningful change and accountability takes form? The answer is, IT STOPS NOW.

HMSHost and its associates stand firmly with the brave and righteous individuals of all colors in the call for equal justice, policy reform, and change, with the goal of ending racism in all its ugly forms. In support of those ideals, we have steadily increased our commitment to diversity and inclusion in our boardroom and on our front lines over the last decade. We resolve to continue to do so, and know this -

We stand with those who care about humanity and progress.
We stand with those who view the future through the lens of equality and fairness.
We stand with those who support a new sustainable way forward of respect and recognition for all.
We stand together for a world that vanquishes racism and therefore hate, and celebrates differences and therefore unity.
We stand with those who advocate for healthy lives, healthy communities, and a safe world where the future holds endless possibilities.

These are not just mere words on paper. This is an ethos that we will live by day in and day out. The struggles of today are the lessons for the future. Let's not let it go to waste. Let's build solutions together, and reaffirm our commitment to the values that we know are the building blocks for successful companies, communities, cities, and countries...
Please read our Diversity, Equity, Civility and Inclusion Commitment Statement.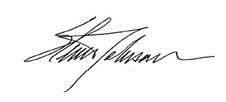 Steven L. Johnson
President and Chief Executive Officer