Oct 19, 2023
NoDa Brewing Company Crowned Champion in "Brew & Bite Battle" Culinary Competition at Charlotte Douglas International Airport
On Oct. 12, Four Famed Local Craft Breweries and Their Teammates from Global Restaurateur HMSHost Went Head-to-Head in a Battle to Create the Best Beer-and-Bite Pairing — with the Winner Earning a Place on the Menu at CLT's 1897 Market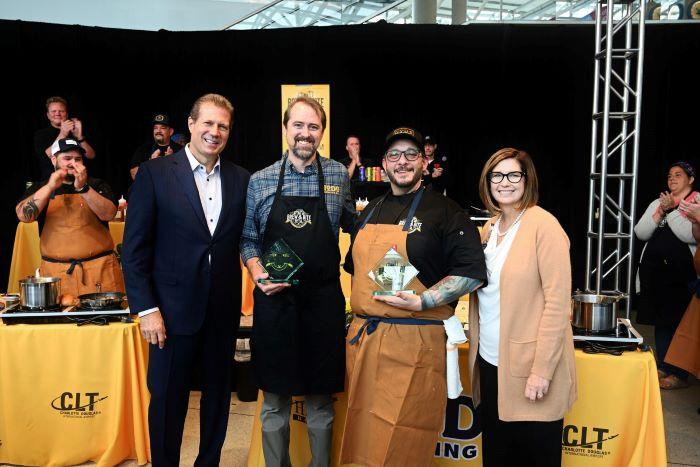 BETHESDA, Maryland (Oct. 19, 2023) – Global restaurateur HMSHost, a Dufry AG (SIX: DUFN) company (soon to become Avolta) and a world leader in creating dining for travel venues, announced today NoDa Brewing Company and Charlotte-based HMSHost Chef Michael Suppa as the winners of its first-ever Brew & Bite Battle, hosted on Oct. 12 in the Atrium of Charlotte Douglas International Airport (CLT). The exciting culinary competition that took place in the heart of CLT pitted four famed local craft breweries against each other — NoDa Brewing Company, The Olde Mecklenburg Brewery, Sycamore Brewing, and Wicked Weed Brewing — in a battle to create the best snack-sized bite that perfectly paired with one of its signature beers.
Each brewery teamed up with an HMSHost chef and had just 30 minutes to create a beer-and-bite pairing to impress a star-studded lineup of judges: retired Carolina Panthers defensive end Charles Johnson and Greg "Woody" Wood and Chris Wilcox, hosts of Charlotte's "The Woody & Wilcox Show."
After an intense competition, judges selected the winning pairing — Hop Drop 'N Shrimp Roll paired with NoDa's award-winning Hop Drop 'N Roll West Coast-style IPA — as the 2023 Brew & Bite Battle Champion, earning the culinary combination a coveted spot on the menu at 1897 Market, which HMSHost opened at CLT in 2015. The dish features IPA-poached local North Carolina shrimp, shaved cabbage, pickled pumpkin, sesame glass noodles, and Citra Hop Ponzu, which perfectly complements the juicy flavor and complex malt backbone of the craft brew.
"Our first-ever Brew & Bite Battle was a celebration of Charlotte's local craft beer scene and the exceptional culinary talent at HMSHost," said Steve Johnson, President & Chief Executive Officer, HMSHost. "Thanks to our strong partnership with Charlotte Douglas International Airport and these outstanding craft brewers, together we were able to host an event in the concourse that gave travelers a taste of the local community and made their journeys as rewarding as their destinations."
"We are fortunate to be able to partner with a company who cares as much for their craft as we do ours. The quality of the programming and experiences HMSHost creates in CLT is second to none," said Jacob Virgil, Director of Strategic Development, NoDa Brewing Company. "We were honored years ago when HMSHost contacted us about opening a taproom in the airport. Being awarded first place for Brew & Bite Battle is a fun way to celebrate our mutual success of the NoDa Brewing Company taproom in CLT."
Passengers traveling to or through CLT during the event — which was hosted by ReachTV on-air host and correspondent Holly Firfer — had the opportunity to watch the action and sample perfectly poured craft beers from each of the participating breweries, courtesy of the brand new beer dispensers of CLT partner and event sponsor Perlick.
"This was a fun and unique way to introduce our passengers to local products and various airport chefs," said Charlotte Douglas International Airport Chief Executive Officer Haley Gentry. "Airport food has come a long way from just grab-and-go snacks; it is now about showcasing the creativity and the quality of food that is offered. It speaks volumes for the program our partner HMSHost has created for the millions of passengers that fly through CLT each year."
About HMSHost
Global restaurateur HMSHost is a world leader in creating dining for travel venues. HMSHost operates locations all over North America, and is part of Dufry Group (SIX: DUFN – www.dufry.com), the leading travel experience player worldwide that uniquely combines retail, food & beverage and digital. The group, soon to be Avolta, serves 2.3 billion passengers in more than 75 countries in 5,500 outlets across 1,200 airports, motorways, cruise lines, seaports, railway stations and other locations across six continents. Visit HMSHost.com for more information and connect with HMSHost on Facebook, Twitter and Instagram.
Recent News