Nov 1, 2022
BurgerFi Opens Fresh New Location at Jacksonville International Airport
Grand Opening Commemorated with a Ribbon Cutting Ceremony with Partner HMSHost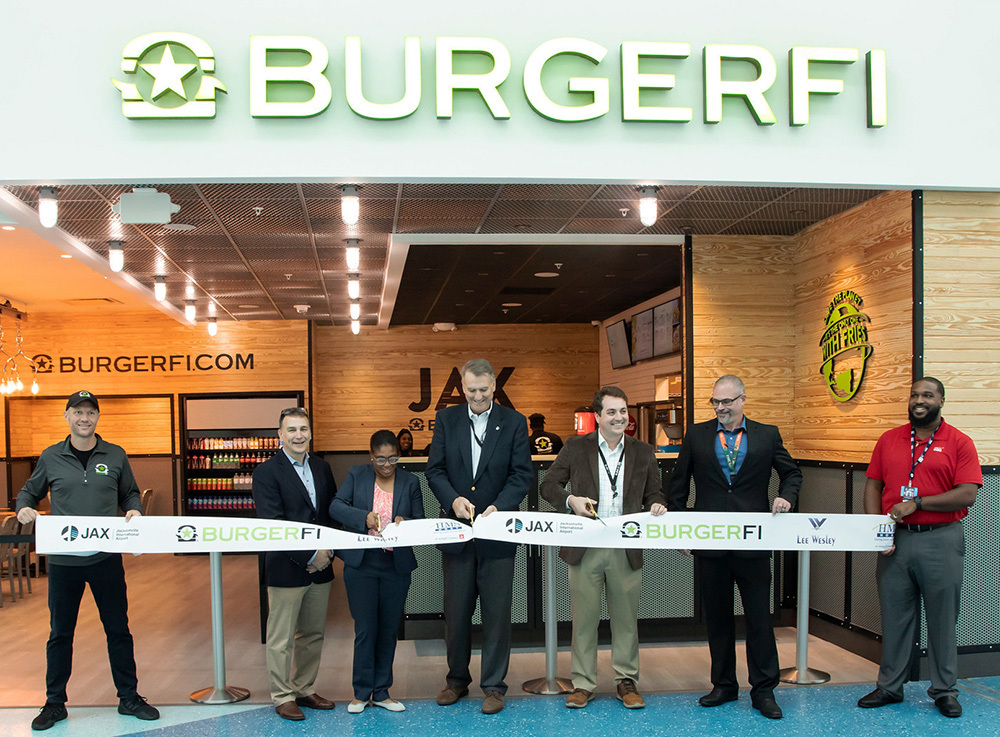 JACKSONVILLE, Florida (Nov. 1, 2022) – BurgerFi, one of the nation's leading fast-casual "better burger" dining concepts, debuted its newest location at the Jacksonville International Airport on Tuesday, November 1, with a ribbon cutting ceremony. BurgerFi at JAX Airport is operated by global restaurateur HMSHost with ABCDE partner Lee Wesley Group, Inc.
Located in Concourse A, the location promises to deliver BurgerFi's uncompromising standard for flavor and quality, where travelers can enjoy "next-level" burgers made with fresh ingredients from the top suppliers across the country. Headquartered in Fort Lauderdale, Florida, BurgerFi's location at JAX Airport is the latest to open in the restaurant chain's home state.
"As passenger traffic rebounds to pre-COVID levels, we knew we needed more dining options in the terminal," JAA CEO Mark VanLoh said. "BurgerFi offers our travelers a gourmet burger experience in a convenient, fast-casual setting."
"At HMSHost, we're proud to partner with airports to deliver fresh, innovative and in-demand restaurant concepts," said Stephen Douglas, Vice President of Business Development, HMSHost. "It's a pleasure to bring a popular and trending concept like BurgerFi to Jacksonville International's already impressive restaurant offering."
"BurgerFi is thrilled to extend our presence to the Jacksonville International Airport and give travelers the opportunity to enjoy quality burgers, fries, and shakes while on the go," said Patrick Renna, President at BurgerFi.
About the Jacksonville Aviation Authority
The Jacksonville Aviation Authority, an independent government agency created by the Florida legislature, operates primarily as a landlord, managing the upkeep, improvement and expansion of its facilities and
coordinating their use by private companies. JAA owns the runways, hangars, passenger terminal building, airport grounds and road connections to the public highway system. JAA provides and maintains the terminals and their equipment and manages the overall use of the facilities.
HMSHost Leading the Industry
HMSHost is recognized by the industry as the leader in travel dining with awards such as Restaurateur with the Highest Regard for Customer Service and Best Brand Restaurateur for Shake Shack by Airport Experience News. USA Today 10Best Readers' Choice Travel Awards gave first place honors to both of HMSHost's Whisky River locations at Charlotte Douglas International Airport and Raleigh-Durham International Airport. ACI-NA, the trade association representing commercial service airports in the United States and Canada, recognized HMSHost with the 2020 Associate Inclusion Champion Award, for leadership and achievement in the ongoing inclusion of business and workforce diversity, outreach, and advocacy. The company also creates original award-winning events and campaigns including Airport Restaurant Month, Channel Your Inner Chef live culinary contest, 1,000 Acts of Kindness, and Eat Well. Travel Further.

About BurgerFi
Established in 2011, BurgerFi is a leading multi-brand restaurant company that develops, markets, and acquires fast-casual and premium-casual dining restaurant concepts around the world, including corporate-owned stores and franchises. BurgerFi is among the nation's leading better burger concepts with 122 BurgerFi restaurants (97 franchised and 25 corporate-owned). As of June 30, 2022, BurgerFi is the owner and franchisor of the two following brands with a combined 183 locations.
About HMSHost
Global restaurateur HMSHost is a world leader in creating dining for travel venues. HMSHost operates locations all over North America, and is part of Autogrill Group, the world's leading provider of food & beverage services for people on the move. Visit HMSHost.com for more information.
Recent News