Nov 15, 2022
Celebrated Chef Johnny Hernandez Opens His First Tex-Mex Eatery, Super Bien, at San Antonio International Airport
This colorful new "Tex-Mex cocina" speaks to the heart of South Texas cuisine and features a vibrant mural painted by local artist Claudio Aguillon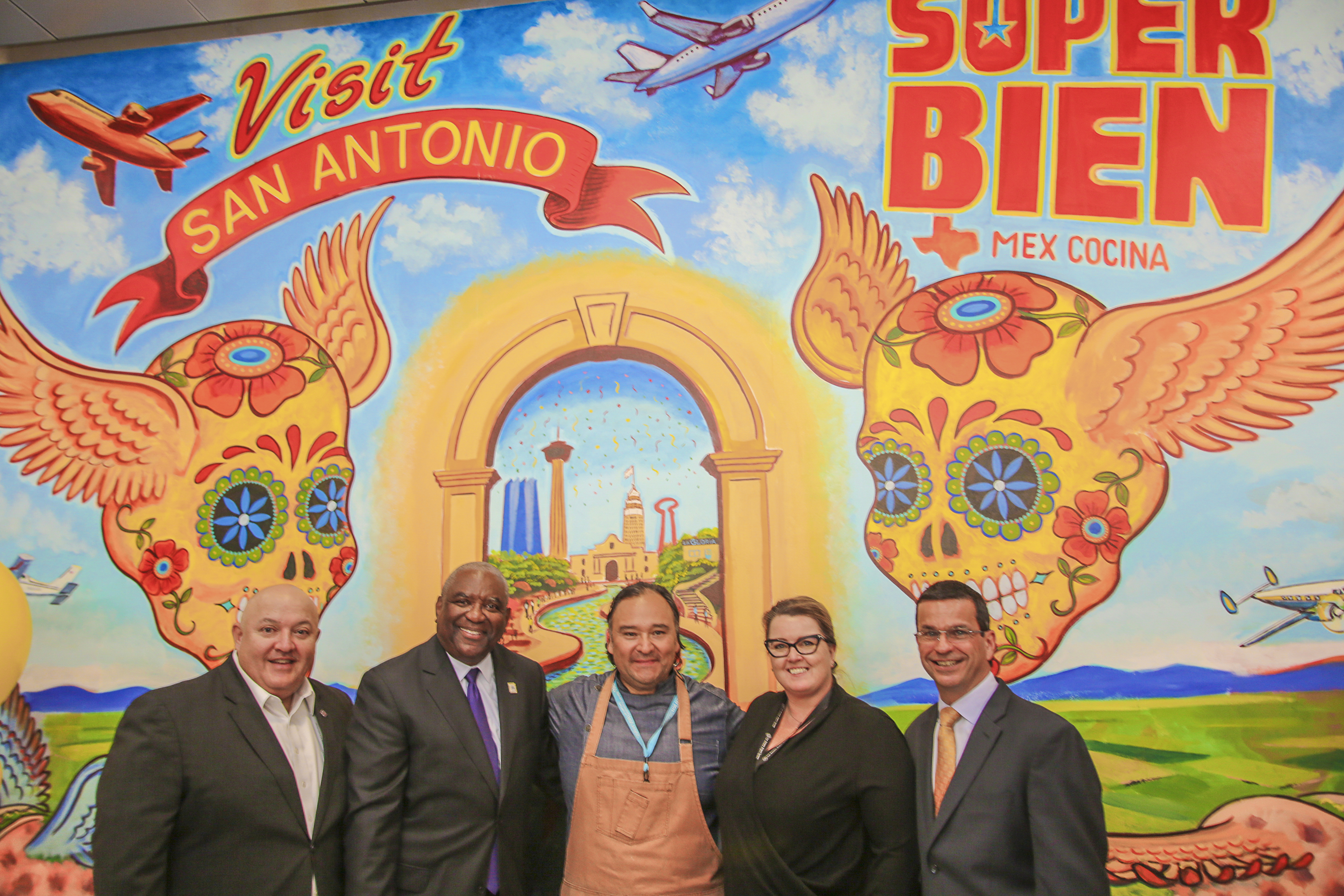 SAN ANTONIO, Texas (Nov. 15, 2022) – Legendary local chef Johnny Hernandez announces the opening of his newest restaurant, Super Bien, at San Antonio International Airport. Super Bien is Chef Johnny's first Tex-Mex restaurant in his hometown of San Antonio, a UNESCO World Heritage City of Gastronomy. In a joint venture with global restaurateur HMSHost, Super Bien features fresh cooking inspired by the renowned chef's family roots in authentic, home-style Tex-Mex cuisine.
A casual, quick-serve "Tex-Mex cocina" ("kitchen") located in terminal A, Super Bien offers made-to-order Tex-Mex favorites travelers can select at the counter, like warm breakfast tacos wrapped in flour or stone-ground corn tortillas and served fresh each morning, or burritos, taco bowls, and salads during both lunch and dinner, topped with filling favorites like beef picadillo, chicken fajitas or pork carnitas, made with fresh ingredients and savory seasonings. Travelers can also try one of Chef Johnny's signature crispy taco bowls brimming with the finest ingredients and true Tex-Mex flavors or an authentic Texas favorite, Chef Johnny's traditional carne guisada: hearty, thick, stew-like taco dishes made from steak in delicious gravy. Super Bien also offers a super-delicious vegan bowl, filled with cauliflower al pastor, poblano peppers, Mexican rice, guacamole, pico de gallo and pickled red onion.
Travelers with early flights will love the coffee at Super Bien, brewed from beans grown in Vera Cruz, Mexico, and roasted locally. Super Bien also serves a selection of Mexican beers, along with frozen margaritas that include flavors like strawberry and prickly pear. Fabulous traditional seasonal agua frescas, or fresh juice drinks, will be a favorite at all times of day.
"For years, I've wanted to open a place like this that brings back the flavors and memories of my own San Antonio childhood. These are foods I grew up cooking as a kid," says Chef Johnny. "My other SAT restaurants, and those I have in town including La Gloria and The Frutería, feature cuisine from the interior of Mexico, and locals love that concept. However, this is the first time I've let Tex-Mex traditions take center stage. What better place than the airport to grab a great-tasting breakfast taco or crispy taco bowl to go, or to take a fruity, fresh agua fresca on the plane? The wonderful aroma of tortillas being made and the bubbling of the guisadas not only let visitors know that they've arrived in Texas, they also remind locals how good it is to be back home. I'm so pleased to be in partnership with HMSHost to bring true Tex-Mex fare to San Antonio International Airport."
In keeping with the Super Bien mission to bring the rich flavors, flair and culture of San Antonio to travelers, the restaurant also features a one-of-a-kind mural painted by local artist Claudio Aguillon, a 33-year resident of San Antonio and native of Mexico. This vibrant, colorful Day of the Dead-themed mural showcases an iconic sugar skull, or calavera, a nod to Día de Los Muertos celebrations. Aguillon has painted more than 30 murals in San Antonio, and his work is included in the permanent collection at the University of Texas in San Antonio and displayed at all La Gloria restaurants.
"It's long been a mission of SAT, HMSHost, and mine to offer travelers quick, fresh, delicious, chef-driven, local fare the moment they land in San Antonio. Food in this UNESCO City of Gastronomy should always taste 'Super Bien,'" says Chef Johnny, "and it does."
"This concept is something we are thrilled to bring to our passengers and employees. Working with HMSHost and iconic chef Johnny Hernandez, whose culinary skills are known around the globe, is the perfect partnership to showcase San Antonio's flavor and culture to millions of travelers," said Jennifer Mills Pysher, Chief Commercial Officer and Technology Assistant Director, San Antonio Airport System.
Super Bien is the third restaurant HMSHost has opened at San Antonio International Airport in partnership with chef Johnny Hernandez. La Gloria and The Frutería both opened in 2013.
"We're proud of our continued partnership with chef Johnny Hernandez to bring the very best of San Antonio's dining scene and culture to travelers from every corner of the globe," said HMSHost Vice President of Business Development Anthony Alessi. "It's been an exciting experience working alongside Chef Johnny and the airport to bring Super Bien to life."
Chef Johnny Hernandez is a renowned chef, entrepreneur, and founder and president of Grupo La Gloria and True Flavors Inc. He is one of the premier Mexican cuisine chefs in the U.S. and a recognized authority on Mexican cuisine and culture. He first garnered notoriety as a rising star on the culinary scene in 2010 with the launch of his acclaimed flagship concept, La Gloria. His culinary ventures have since expanded to become Grupo La Gloria, a diverse and growing portfolio of signature restaurants and culinary projects. Learn more about chef Johnny Hernandez at ChefJohnnyHernandez.com.
HMSHost Leading the Industry
HMSHost is recognized by the industry as the leader in travel dining with awards such as Restaurateur with the Highest Regard for Customer Service and Best Brand Restaurateur for Shake Shack by Airport Experience News. USA Today 10Best Readers' Choice Travel Awards gave first place honors to both of HMSHost's Whisky River locations at Charlotte Douglas International Airport and Raleigh-Durham International Airport. ACI-NA, the trade association representing commercial service airports in the United States and Canada, recognized HMSHost with the 2020 Associate Inclusion Champion Award, for leadership and achievement in the ongoing inclusion of business and workforce diversity, outreach, and advocacy. The company also creates original award-winning events and campaigns including Airport Restaurant Month, Channel Your Inner Chef live culinary contest, 1,000 Acts of Kindness, and Eat Well. Travel Further.

About HMSHost
Global restaurateur HMSHost is a world leader in creating dining for travel venues. HMSHost operates locations all over North America, and is part of Autogrill Group, the world's leading provider of food & beverage services for people on the move. Visit HMSHost.com for more information.
Recent News