Jun 20, 2023
HMSHost Celebrates Opening of Mauka Market at Daniel K. Inouye International Airport
Inspired by the Spirit of the Hawaiian Islands, Mauka Market Gives Travelers a Taste of Local Cuisine and Culture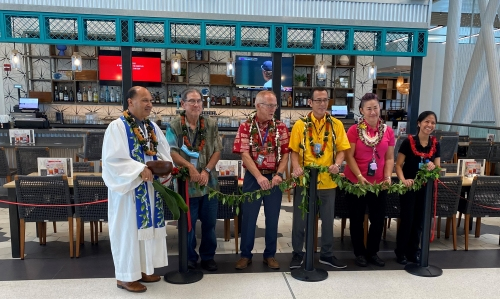 BETHESDA, Maryland (June 20, 2023) – Global restaurateur HMSHost, a world leader in creating dining for travel venues, celebrated the opening of its newest restaurant concept, Mauka Market, yesterday with a traditional Hawaiian blessing. Located in the newest concourse of Daniel K. Inouye International Airport (HNL), the Mauka Concourse, Mauka Market was created to capture the essence of Hawaii through locally inspired cuisine, homegrown retail products, and the spirit of aloha for all who dine there.
Travelers who visit the 92-seat Mauka Market — aptly named for the nearby mountains — are greeted by HMSHost associates donning classic palaka shirts. The menu features a variety of pupus (starters) such as street fries — made with togarashi, aioli, yaki glaze, furikake, scallion, and bonito — along with contemporary dishes like loco moco, a half-pound grilled local beef patty atop steamed furikake rice with brown gravy, cage-free fried eggs, mac salad, scallion, and crispy onions. Additionally, Mauka Market serves ramen, including black garlic tonkotsu made with pork belly, wood ear mushroom, menma, pickled ginger, scallion, and sesame in a creamy pork broth. Early-morning travelers can enjoy locally inspired breakfast dishes like kama'aina breakfast, paniolo steak and eggs, and haupia French toast.
Mauka Market offers a full bar featuring island-inspired cocktails made with regional flavors like lilikoi, guava, lychee, pineapple, and coconut, along with local spirits such as Ocean Organic Vodka and Kōloa Rum, both distilled from local sugar cane. Local craft brews from Aloha Beer Co. and Kona Brewing are also on tap, and Mauka Market has an assortment of bottles and cans, as well.
For travelers on the move, HMSHost has partnered with Hawaiian household favorites to offer a variety of grab-and-go beverages and snacks, including Island Princess for sweet, salty, and crunchy macadamia nut snacks and Diamond Bakery for classic cookies made with island flavors like pineapple, lilikoi, taro, and more. Mauka Market's grab-and-go is open 24/7 and travelers can enjoy the convenience of smart self-checkout, as well, to help set the pace for their journey.
"Food and drink are a significant part of our island culture and the Hawaii travel experience," said Hawaii Department of Transportation Director Ed Sniffen. "HMSHost's latest offering, Mauka Market, showcases our local flavors conveniently in our Mauka concourse to provide a last great meal in the islands, or an amazing welcome."
"Mauka Market pays homage to the land and resources Hawaii provides. We are delighted to offer visitors a taste of the islands the moment they arrive at Daniel K. Inouye International Airport and offer locals a taste of home before they depart," said HMSHost Vice President of Business Development Anthony Alessi.
Chris Kadohiro, HMSHost Senior Director of Operations at HNL, added: "As a local of Hawaii, I'm excited to welcome guests to Mauka Market. Here, travelers and kama'aina become 'ohana, and we look forward to serving them a delicious meal with exceptional hospitality and aloha."
HMSHost Leading the Industry
HMSHost is recognized by the industry as the leader in travel dining with awards such as Restaurateur with the Highest Regard for Customer Service and Best Brand Restaurateur for Shake Shack by Airport Experience News. USA Today 10Best Readers' Choice Travel Awards gave first place honors to both of HMSHost's Whisky River locations at Charlotte Douglas International Airport and Raleigh-Durham International Airport. ACI-NA, the trade association representing commercial service airports in the United States and Canada, recognized HMSHost with the 2020 Associate Inclusion Champion Award, for leadership and achievement in the ongoing inclusion of business and workforce diversity, outreach, and advocacy. Additionally, ACI-NA awarded HMSHost the 2022 Excellence in Airport Concessions Award for the Best Employee Recognition Program. The company also creates original award-winning events and campaigns including Airport Restaurant Month, Channel Your Inner Chef live culinary contest, 1,000 Acts of Kindness, and Eat Well. Travel Further.
About HMSHost
Global restaurateur HMSHost is a world leader in creating dining for travel venues. HMSHost operates locations all over North America, and is part of Dufry Group (SIX: DUFN – www.dufry.com), the leading travel experience player worldwide that uniquely combines retail, food & beverage and digital. The group serves 2.3 billion passengers in more than 75 countries in 5,500 outlets across 1,200 airports, motorways, cruise lines, seaports, railway stations and other locations across six continents. Visit HMSHost.com for more information and connect with HMSHost on Facebook, Twitter and Instagram.
Recent News