Aug 1, 2023
Jacksonville Beach Institution Angie's Subs to Open Outpost at Jacksonville International Airport
Operated by Global Restaurateur HMSHost, New JAX Restaurant Will Expand the Brand's Presence Beyond Its Flagship Beach Boulevard Shop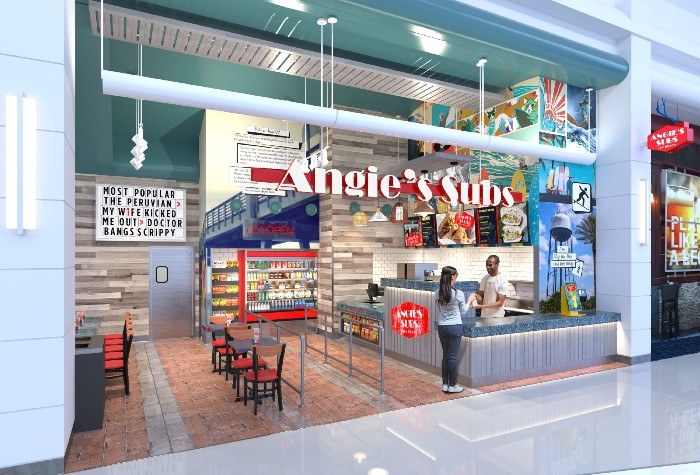 BETHESDA, Maryland (Aug. 1, 2023) – Global restaurateur HMSHost, a world leader in creating dining for travel venues, announced today that travelers at Jacksonville International Airport (JAX) will soon have the chance to get a taste of a local institution that's been serving its famous subs and sweet tea for over 40 years: Angie's Subs.
HMSHost will operate the outpost of the Jacksonville Beach restaurant in partnership with Florida-based Lee Wesley Group, Inc., an Airport Concessions Disadvantaged Business Enterprise (ACDBE).
"As a traveler's first and last impression of the region, an airport should showcase the best of the local community," said Jacksonville Aviation Authority (JAA) CEO Mark VanLoh. "We believe a beloved Jax Beach staple like Angie's Subs is a perfect addition to our concessions offerings for passengers."
Angie's Subs at JAX will feature the most popular subs on the original menu, including fan-favorites like "The Peruvian" (ham, Genoa salami, bacon, Italian sausage, provolone, and Peruvian sauce), "Dr. Bang's Scrippy" (capicola, pepperoni, provolone, homemade chicken salad, lettuce, tomato, and pickle), and "Jack Del Rio" (turkey, roast beef, bacon, mushrooms, honey BBQ Fritos®, provolone, and Del Rio sauce).
The restaurant will also serve several salads, a variety of sides including potato salad and deviled eggs, desserts like Banana Puddin', and, of course, the brand's delicious sweet tea. For the youngest travelers, Angie's Subs at JAX will make any of its famous subs into a kid's size.
"My team and I are beyond excited and very honored to bring our brand to JAX," said Ed Malin, owner of Angie's Subs. "What could be better than sitting in the window seat eating a hot, juicy Angie's Sub and sipping a giant sweet tea while enjoying a 35,000-foot view? What a great start to a vacation! I can't wait to hear from guests about all the places our subs have traveled to."
Slated to open in early 2024, the 800-square-foot quick-service restaurant will offer the convenience of serving great food fast for travelers on the move, but will also have 10 seats for those opting to dine-in.
"Angie's Subs has been a Jacksonville Beach staple for over 40 years, making it a popular destination for locals and visitors alike," said HMSHost Vice President of Business Development Stephen Douglas. "HMSHost strives to bring the best of the local food scene to the airport, so we are excited to partner with Ed Malin, Lee Wesley Group, and the Jacksonville Aviation Authority to introduce Angie's Subs' sought-after sandwiches and unique culture and vibe to all who travel to or through Jacksonville International Airport."
HMSHost Leading the Industry
HMSHost is recognized by the industry as the leader in travel dining with awards such as Restaurateur with the Highest Regard for Customer Service and Best Brand Restaurateur for Shake Shack by Airport Experience News. USA Today 10Best Readers' Choice Travel Awards gave first place honors to both of HMSHost's Whisky River locations at Charlotte Douglas International Airport and Raleigh-Durham International Airport. ACI-NA, the trade association representing commercial service airports in the United States and Canada, recognized HMSHost with the 2020 Associate Inclusion Champion Award, for leadership and achievement in the ongoing inclusion of business and workforce diversity, outreach, and advocacy. Additionally, ACI-NA awarded HMSHost the 2022 Excellence in Airport Concessions Award for the Best Employee Recognition Program. The company also creates original award-winning events and campaigns including Airport Restaurant Month, Channel Your Inner Chef live culinary contest, 1,000 Acts of Kindness, and Eat Well. Travel Further.

About the Jacksonville Aviation Authority
The Jacksonville Aviation Authority operates Jacksonville International Airport (JAX) and the city's three general aviation airports - Cecil Airport, Jacksonville Executive at Craig Airport (JAXEX) and Herlong Recreational Airport. The Authority, funded through user fees and not local taxes, contributes over $6 billion annually to the local economy. For more information about the Jacksonville Aviation Authority's airports, please visit www.flyjacksonville.com
About HMSHost
Global restaurateur HMSHost is a world leader in creating dining for travel venues. HMSHost operates locations all over North America, and is part of Dufry Group (SIX: DUFN – www.dufry.com), the leading travel experience player worldwide that uniquely combines retail, food & beverage and digital. The group serves 2.3 billion passengers in more than 75 countries in 5,500 outlets across 1,200 airports, motorways, cruise lines, seaports, railway stations and other locations across six continents. Visit HMSHost.com for more information and connect with HMSHost on Facebook, Twitter and Instagram.
Recent News