Oct 18, 2022
Boston Public Market Opens Marketplace at Boston Logan International Airport
Grand Opening celebration welcomes "BPM Logan" to airport's offering of local fare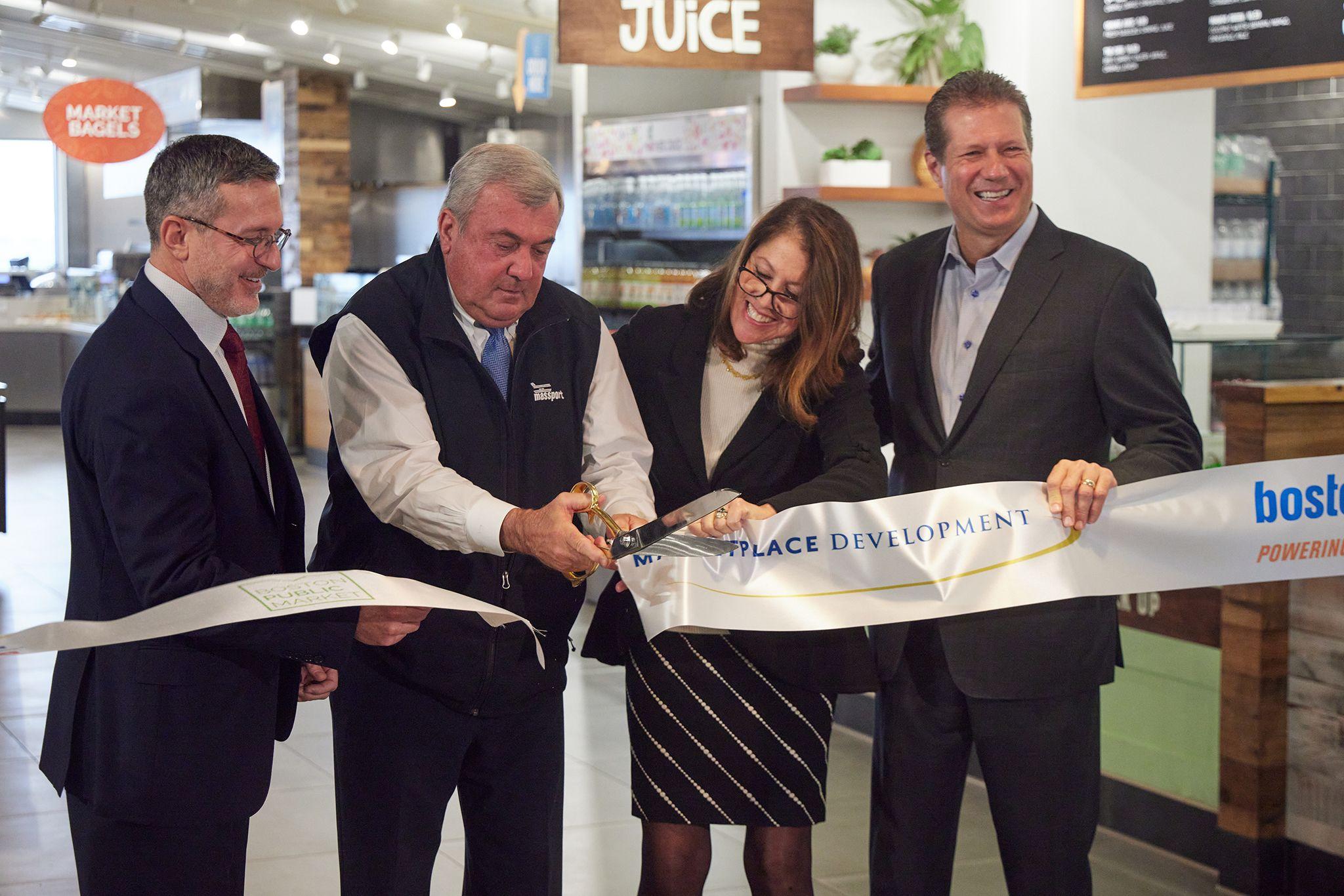 BOSTON, Mass., (Oct. 18, 2022) Boston Public Market (BPM), a diverse collection of local food and crafts, debuted its sister location at Boston Logan International Airport on Tuesday, October 18, with a grand opening celebration. "BPM at Boston Logan" is operated by global restaurateur HMSHost in partnership with MarketPlace Development.
BPM Logan gives airport visitors a taste of local delights from downtown Boston's popular Boston Public Market. The new location is proud to feature many of the same food vendors that are staples of the original location. Designed to mirror the 100 Hanover Street location in downtown Boston, vendors display offerings in stall-style units surrounded by corrugated metal and salvaged barn board accents. Seating is available in the center of the space, and a "HUB" board displays Market news and promotions.
"We are proud to partner with Boston Public Market as they open a location inside Boston Logan Airport," said Massport Director of Aviation Ed Freni. "The Market offers a variety of products that celebrate New England and it is another great spot for our passengers to enjoy while they're at Logan."
"Our goal at HMSHost is to combine culinary expertise, exemplary customer service, innovation, unique events and experiences to deliver an exceptional dining experience for travelers," said Steve Johnson, CEO and President of HMSHost. "Travelers on layovers don't always have time to get into Boston to taste the local flavors, so we partnered with Boston Public Market to bring Boston's best culinary offerings into the terminal."
BPM Logan's menu features the most popular items by and from vendors at the Hanover Street location and is based on lifestyle trends fueling the demand for healthier, local food at airports.
Our partnership with HMSHost and MarketPlace allows us to open a second location and expand our ability to provide fresh, local food to Boston-area residents and travelers," said Cheryl Cronin, CEO of the Boston Public Market. "We admire MassPort's commitment to restructuring their food and beverage options to be healthier and more progressive as consumers want to feed their families simple, good food."
Other vendors featured in the new airport location include: Beantown Pastrami, offering pastrami and corned beef sandwiches, pastrami burgers and homemade sides like half-sour pickles and coleslaw, Market Bagels, offering a wide variety of freshly made bagels, cream cheese spreads, and bagel sandwiches, Mother Juice, a selection of made-to-order smoothies, cold-pressed juices, salads, and more and Red's Best, fresh lobster rolls, fish sandwiches, seafood-focused salads and more.
Concepts unique to BPM Logan include: BPM Fresh Eats, a fresh, seasonally focused salad bar stocked with locally sourced produce, as the seasons permit, BPM On the Fly, offering quick, grab-and-go snacks and small gifts and artisanal items from a variety of local vendors and Market Bar, a full-service bar highlighting New England-sourced beer, wine and liquor.
"We remain committed in providing local favorites when it comes to our brands at Boston Logan with the best food, beverage and retail that Boston and New England have to offer travelers. As we continue to elevate our passenger experience, Boston Public Market is the perfect example of our commitment to bringing our local roots to the airport," said Michael DiCosola, President, MarketPlace Development.
Additional local influences to be featured at BPM Logan include the artwork of artist Laurel Greenfield, a Boston-based painter capturing nostalgic food memories in vibrant color, and George Howell Coffee.
About Massachusetts Port Authority
At the Massachusetts Port Authority, our history is long, our responsibilities serious and our mission unwavering: to connect Massachusetts and New England to the world, safely, securely and efficiently, never forgetting our commitment to our neighbors who live and work around our ports and facilities.
HMSHost Leading the Industry
HMSHost is recognized by the industry as the leader in travel dining with awards such as Restaurateur with the Highest Regard for Customer Service and Best Brand Restaurateur for Shake Shack by Airport Experience News. USA Today 10Best Readers' Choice Travel Awards gave first place honors to both of HMSHost's Whisky River locations at Charlotte Douglas International Airport and Raleigh-Durham International Airport. ACI-NA, the trade association representing commercial service airports in the United States and Canada, recognized HMSHost with the 2020 Associate Inclusion Champion Award, for leadership and achievement in the ongoing inclusion of business and workforce diversity, outreach, and advocacy. The company also creates original award-winning events and campaigns including Airport Restaurant Month, Channel Your Inner Chef live culinary contest, 1,000 Acts of Kindness, and Eat Well. Travel Further.
About HMSHost
Global restaurateur HMSHost is a world leader in creating dining for travel venues. HMSHost operates locations all over North America, and is part of Autogrill Group, the world's leading provider of food & beverage services for people on the move. Visit HMSHost.com for more information.
About Boston Public Market
The Boston Public Market is an indoor, year-round marketplace featuring about 30 New England artisans and food producers housed under one roof offering fresh foods, prepared meals, crafts, and specialty items. Residents and visitors alike can find seasonal, locally sourced food from Massachusetts and New England, including fresh produce, meat and poultry, eggs, dairy, seafood, baked goods, specialty items, crafts, and prepared breakfast, lunch, and dinner options. Everything sold at the Market is produced or originates in New England, as the seasons allow.
About MarketPlace Development
MarketPlace Development is a forward-looking real estate company that transforms the passenger experience at airports across the country through the development and management of airport concessions programs. Working in partnership with airports and airlines, we develop first-class retail programs that provide passengers with incomparable amenities and our airport and airline partners with an improved financial return from their concessions program while achieving the other non-financial goals they set for each project.
About HMSHost
Global restaurateur HMSHost is a world leader in creating dining for travel venues. HMSHost operates locations all over North America, and is part of Autogrill Group, the world's leading provider of food & beverage services for people on the move. Visit HMSHost.com for more information.
Recent News