Mar 6, 2023
Global Restaurateur HMSHost Opens New Firehouse Subs® at Jacksonville International Airport
Firehouse Subs® marks the third restaurant HMSHost has opened at JAX over the past year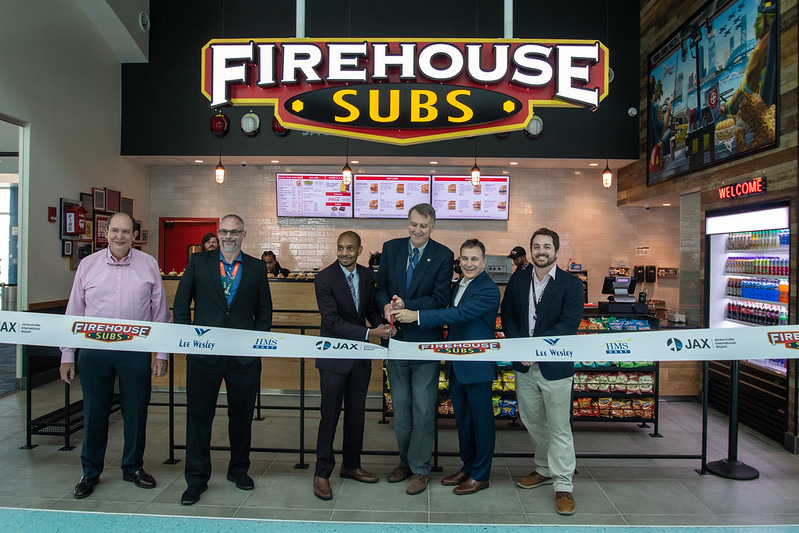 BETHESDA, Maryland (March 6, 2023) – Global restaurateur HMSHost, a world leader in creating dining for travel venues, celebrated the opening of a new Firehouse Subs® at Jacksonville International Airport (JAX) today. The restaurant is operated in partnership with Airport Concessions Disadvantaged Business Enterprise (ACDBE) partner Lee Wesley.
"We are so excited to offer our travelers great food from a beloved brand," Jacksonville Aviation Authority CEO Mark VanLoh said. "This is the first of several impressive new dining options that will be coming online at JAX in the next year."

Located in Concourse C, the new Firehouse Subs® serves a selection of its signature hot and hearty subs piled high with the highest quality meats and cheeses — like the Hook & Ladder®, a Firehouse Subs® original, featuring smoked turkey breast, Virginia honey ham, and melted Monterey Jack, served Fully Involved® with mayo, deli mustard, lettuce, tomato, and onion. Travelers can choose to enjoy their sub on white, wheat, or gluten-free bread, and also have a choice of salads and grab-and-go treats like chips, cookies, and brownies. To cater to passengers with early-morning flights, HMSHost collaborated with Firehouse Subs® to create a menu of breakfast subs, such as the Steak, Egg & Cheese made with tender steak, egg, melted provolone, and mayo. Coffee, orange juice, and milk is also available during breakfast hours.
"HMSHost and Firehouse Subs® have a shared mission to provide guests with flavorful food and great service, so we embraced the opportunity to open a new, larger restaurant at Jacksonville International Airport," said HMSHost Vice President of Business Development Stephen Douglas. "As a Jacksonville-born brand, Firehouse Subs® is a taste of home for so many locals, and, as a national chain, it is also a familiar concept for travelers — making it a great choice as HMSHost expands our concessions program at JAX."
"We are eager to show off and welcome guests to our new Firehouse Subs® restaurant in the airport," said Steve LaBostrie, Director of Non-Traditional Operations at Firehouse Subs®. "A portion of every purchase at this Firehouse Subs®, and any in the U.S., benefits the Firehouse Subs Public Safety Foundation®. The Foundation has granted over $4.7 million worth of lifesaving equipment to local public safety organizations in greater Jacksonville, including Jacksonville Aviation Authority, Jacksonville Fire and Rescue Department, and Jacksonville Sheriff's Office."
The new Firehouse Subs® is the third restaurant HMSHost has opened at JAX over the last year and is part of a 10-year contract valued at approximately $60 million that the Jacksonville Aviation Authority awarded to HMSHost and Lee Wesley.
In early 2022, HMSHost opened the first airport location for locally owned Southern Grounds, a chef-driven coffeehouse, followed by South Florida-based BurgerFi last October. HMSHost plans to open a second Southern Grounds pre-security in the coming months.
"HMSHost has built its reputation on delivering the right mix of restaurants from local cuisine and popular chefs to well-known national brands, so whether you're flying to or through Jacksonville International Airport, you know you can eat well on-the-go," added Douglas.
About the Jacksonville Aviation Authority
The Jacksonville Aviation Authority, an independent government agency created by the Florida legislature, operates primarily as a landlord, managing the upkeep, improvement and expansion of its facilities and coordinating their use by private companies. JAA owns the runways, hangars, passenger terminal building, airport grounds and road connections to the public highway system. JAA provides and maintains the terminals and their equipment and manages the overall use of the facilities.
HMSHost Leading the Industry
HMSHost is recognized by the industry as the leader in travel dining with awards such as Restaurateur with the Highest Regard for Customer Service and Best Brand Restaurateur for Shake Shack by Airport Experience News. USA Today 10Best Readers' Choice Travel Awards gave first place honors to both of HMSHost's Whisky River locations at Charlotte Douglas International Airport and Raleigh-Durham International Airport. ACI-NA, the trade association representing commercial service airports in the United States and Canada, recognized HMSHost with the 2020 Associate Inclusion Champion Award for leadership and achievement in the ongoing inclusion of business and workforce diversity, outreach, and advocacy. Additionally, ACI-NA awarded HMSHost the 2022 Excellence in Airport Concessions Award for the Best Employee Recognition Program. The company also creates original award-winning events and campaigns including Airport Restaurant Month, Channel Your Inner Chef live culinary contest, 1,000 Acts of Kindness, and Eat Well. Travel Further.

About Firehouse Subs®
Firehouse Subs® is a restaurant chain with a passion for hearty and flavorful food, heartfelt service and public safety. Founded in Jacksonville, Florida in 1994 by two brothers and former firefighters, Firehouse Subs® is a brand built on decades of fire and police service, hot and hearty subs piled high with the highest quality meats and cheeses and its commitment to saving lives through the establishment of the non-profit Firehouse Subs Public Safety Foundation®. Driven by the passion of more than 400 Firehouse Subs® franchisees to serve their local communities, for the fifth consecutive year, based on recent Technomic Insight consumer data, Firehouse Subs® was named the No.1 brand in the restaurant industry that "Supports Local Community Activities." This year, Firehouse of America and Firehouse Subs® suppliers will together donate a portion of purchases at Firehouse Subs® locations to Firehouse Subs Public Safety Foundation® for the purchase of lifesaving equipment, with a minimum donation of $1 million.
Enjoy more subs. Save more lives. To learn more, visit http://www.firehousesubs.com.
About HMSHost
Global restaurateur HMSHost is a world leader in creating dining for travel venues. HMSHost operates locations all over North America, and is part of Dufry Group (SIX: DUFN – www.dufry.com), the leading travel experience player worldwide that uniquely combines retail, food & beverage and digital. The group serves 2.3 billion passengers in more than 75 countries in 5,500 outlets across 1,200 airports, motorways, cruise lines, seaports, railway stations and other locations across six continents. Visit HMSHost.com for more information and connect with HMSHost on Facebook, Twitter and Instagram.
Recent News