Jun 29, 2023
Super Bien Named Best New Quick-Service Food and Beverage Concept by Airports Council International – North America at 2023 ACI-NA Awards
Additionally, HMSHost Vice President of Strategic Alliances Ron Gomes Received Esteemed Leon C. Watkins "Guardian Award" for Excellence in Business Diversity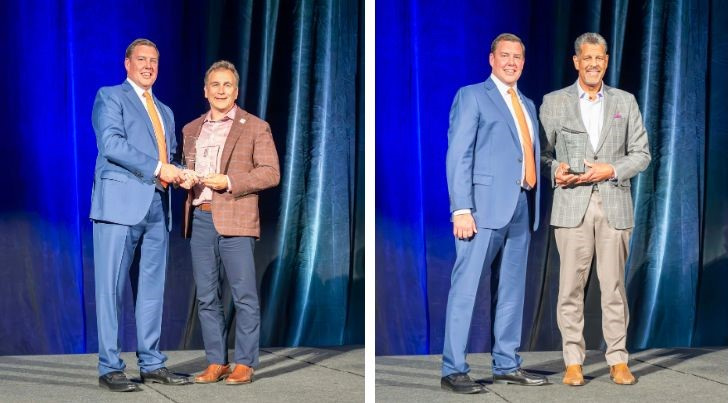 BETHESDA, Maryland (June 29, 2023) – During last night's annual ACI-NA Awards Gala held at the 2023 Business of Airports Conference in Scottsdale, Arizona, Airports Council International – North America (ACI-NA) honored global restaurateur HMSHost for its industry leadership in creating dining for travel venues, as well as its longstanding commitment to diversity and inclusion.
During the Excellence in Airport Concessions Awards — which recognize how the airport and concessions industry continues to work in partnership to enhance the passenger experience — ACI-NA named Super Bien, located at San Antonio International Airport (SAT), the industry's Best New Food and Beverage Quick-Service Concept.
Located in Terminal A, HMSHost opened Super Bien at San Antonio International Airport in November 2022 in partnership with celebrated local chef Johnny Hernandez. Super Bien is Chef Johnny's first Tex-Mex cocina in his hometown of San Antonio and features fresh cooking inspired by his family roots in a casual, quick-serve setting with fare like beef picadillo and carne guisada, and coffee brewed from beans grown in Vera Cruz, Mexico. Super Bien brings the rich flavors, flair, and culture of San Antonio to travelers, and also features a one-of-a-kind mural painted by local artist Claudio Aguillon, a 30+-year resident of San Antonio and native of Mexico.
"HMSHost is proud of our portfolio of local, specialty, national, and proprietary brands, and to be recognized by ACI-NA is a testament to the incredible work of countless people and partners who bring these concepts to life and serve travelers every day," said Steve Johnson, President & CEO, Dufry North America.
"HMSHost and Chef Johnny Hernandez had a vision to bring the vibrant flavors and culture of San Antonio to the airport, and we can not thank San Antonio International Airport enough for its partnership and collaboration in making this dream a reality," said HMSHost Vice President of Business Development Anthony Alessi.
Airports Council International – North America also awarded HMSHost Vice President of Strategic Alliances Ron Gomes the 2023 Leon C. Watkins "Guardian Award" for Excellence in Business Diversity, a prestigious annual award honoring a leader who has promoted the growth and evolution of minority- and woman-owned businesses and suppliers while advancing the civil rights and equal opportunities for all within an airport business environment.
"Leon Watkins left behind a legacy of devotion, courage, and inclusion, and he personally empowered me to spend my career uplifting and supporting minority entrepreneurs," said Gomes. "I am humbled to be a recipient of his namesake award in the spirit of everything the memory of Leon Watkins represents."
HMSHost Leading the Industry
HMSHost is recognized by the industry as the leader in travel dining with awards such as Restaurateur with the Highest Regard for Customer Service and Best Brand Restaurateur for Shake Shack by Airport Experience News. USA Today 10Best Readers' Choice Travel Awards gave first place honors to both of HMSHost's Whisky River locations at Charlotte Douglas International Airport and Raleigh-Durham International Airport. ACI-NA, the trade association representing commercial service airports in the United States and Canada, recognized HMSHost with the 2020 Associate Inclusion Champion Award for leadership and achievement in the ongoing inclusion of business and workforce diversity, outreach, and advocacy. Additionally, ACI-NA awarded HMSHost the 2022 Excellence in Airport Concessions Award for the Best Employee Recognition Program. The company also creates original, award-winning events and campaigns including Airport Restaurant Month, Channel Your Inner Chef live culinary contest, 1,000 Acts of Kindness, and Eat Well. Travel Further.
About HMSHost
Global restaurateur HMSHost is a world leader in creating dining for travel venues. HMSHost operates locations all over North America, and is part of Dufry Group (SIX: DUFN – www.dufry.com), the leading travel experience player worldwide that uniquely combines retail, food & beverage and digital. The group serves 2.3 billion passengers in more than 75 countries in 5,500 outlets across 1,200 airports, motorways, cruise lines, seaports, railway stations and other locations across six continents. Visit HMSHost.com for more information and connect with HMSHost on Facebook, Twitter and Instagram.
Recent News